The Tahoe Internet Exchange is a cooperative effort to foster community and regional routing. TahoeIX is the first exchange in Northern Nevada. Our mission is to make a positive impact on our local internetworking community. We help keep traffic local.
Announcements
Follow us on Twitter @TahoeIX
Welcome to our newest peer: Internet Systems Consortium AS395217
Why Join TahoeIX?
The Tahoe Internet Exchange connects participants to increase performance, enhance reliability, and keep traffic local to Northern Nevada.
Adds routing diversity and lowers latency.
Access to critical infrastructure (i.e. anycast DNS).
Access to content (i.e. CDN and colocation peers).
Access to consumers (i.e. internet service providers).
Reduces dependence on transit "internet" ports.
Keeps local traffic local without depending on out of state networks.
Good neighbor services (i.e. the AS112 Project).
As TahoeIX grows the stronger our Northern Nevada internet community becomes. All types and sizes of peers are welcome to join.
If you'd like to join TahoeIX please email: info < at > tahoeix < dot > org
Thank you to our supporters and advisors:
The group of inital network operators that made starting an exchange possible.
Matt at SFMIX for advice to help us get started (and ongoing), the domain names, and donating a Cisco 3750G-12S for the MMR peering fabric.
Seth at Roller Network for kickstarting the IX with funding and resources.
Roller Network for donating a Xen VM, mail and DNS services, plus sponsoring infrastructure resources.
Packet Clearing House and Cisco for donating a Nexus 3548P-10G.
We would like to extend a special thanks to the following participants since you can't start an exchange without anyone to exchange with.
History
June 2016

Internet Systems Consortium joins peering with F-Root AS395217
Peering traffic peaks just shy of 300Mbps for the first time

September 2015

RIPE joins peering with K-Root AS25152

July 2015

Akamai starts passing traffic; daily traffic peaks reach 100Mbps.

June 2015

Akamai AS20940 establishes peering.

April 2015

An AS112 Project server establishes peering.
Added prefixes for L-Root AS20144 via Roller Network AS11170.

March 2015

Verisign AS26415 establishes peering.

February 2015

Packet Clearing House AS42 and AS3856 establishes peering.

January 2015

Started graphing summary traffic data.
Started graphing IPv4 and IPv6 networks on the exchange.

October 2014

First two peers (Roller Network AS11170 and High Desert Internet AS32614) establish BGP sessions.
Traffic is exchanged through TahoeIX!

September 2014

ARIN assigns AS63212, 206.41.109.0/24, and 2001:504:3F::/48 to TahoeIX.
TahoeIX is founded.
Participants are encouraged to use the route server to openly peer with all participants - which is core of joining an exchange. Participants may still choose to peer bilaterally with important peers. The value of the exchange is greatly enhanced with open peering. TahoeIX should not be used for a participant's internal traffic.
Anyone is welcome to join the TahoeIX and participate in peering. There is no minimum prefix size on the exchange, although individual peers may have a minimum prefix length at their discretion. Both IPv4 and IPv6 is supported. TahoeIX does not have a membership fee. The exchange is supported by sponsors and donations.
Peering is bilateral with the exception of route servers. There is no MLPA.
BGP4 (or its successor) is used for peering and peers must set NEXT_HOP_SELF if advertising routes from other TahoeIX participants.
Participants may not point default or statically route.
Participants may not use another participant's resources without permission.
Broadcast traffic may not be delivered to the exchange except as needed for normal operation and troubleshooting.
Participants may not sniff traffic between other participants.
Participants may only utilize a single layer-2 MAC address to place a single layer-3 router per port allocated from the TahoeIX switch fabric unless by prior agreement.
Participants must make valid contact information and relevant documentation available at all times.
No exchange participant may harm the exchange or other participants.
Participants are encouraged to create a PeeringDB entry for their AS if they don't already have one, however it is not mandatory for peering. Some particpating peers may require a PeeringDB entry.
How to Join TahoeIX
Joining TahoeIX and participating in regional peering is easy! The TahoeIX route server will get you started quickly, but if there are valuable peers on the IX fabric you should contact them to establish a direct peerings. Some peers may only support peering through the route servers to reduce their admin overhead, while others may only support direct peering (no route servers). Check each peer's PeeringDB entry for more information. The TahoeIX route servers also handle looking glass duties: RS1 is required while RS2 is optional but highly recommended for diversity.
First, review the rules and contact if us if you have questions. Second, you'll need to arrange a transport connection. The TahoeIX switch is in a neutral location next to fiber from AT&T, Verizon Business (also accessable by Level 3), and Charter Communications. Transport may also be available through other TahoeIX participants via cross connects (see the "connect" tab for a list).
Once you have your transport contact us at info < at > tahoeix < dot > org for IP address assignments on the peering fabric. We'll need your AS number, points of contact, and information for a listing on the website.
Next we'll build your port and configure the route servers. Once your transport is ready we'll cross connect you to the TahoeIX fabric switch and you're ready to start peering.
Once you turn up your BGP to the route servers other route server participants will see your prefixes and peering traffic will begin to flow. The looking glass can be used to troubleshoot. Welcome to TahoeIX!
If you'd like to join TahoeIX please email: info < at > tahoeix < dot > org
To join TahoeIX you will need a BGP-capable router, an autonomous system number, and a connection to the peering fabric. Any carrier present in the TahoeIX MMR can connect you to the peering fabric. Network operators of all sizes are welcome. If you don't currently run BGP please contact us to see if we can help.
We are using BIRD for our BGP route servers. Looking glass: tahoeix.org/lg
Notes
Route server #1 is required because it doubles as the looking glass. If your AS doesn't participate on route servers please tag your announcement to the route server/looking glass on AS63212 appropriately (see BGP communities below) or we can configure a filter on request.
Prefixes for L-Root AS20144 are available to IX participants through AS11170.
In Provisioning
BGP Communities
The following communities are processed by the route server, but are not propagated to peers.
Standard Community
Extended Community
0:peer-as
So:0:peer-as
Do not advertise to peer-as
63212:peer-as
So:63212:peer-as
Advertise to peer-as
0:63212
So:0:63212
Do not advertise to any peer
The default behavior is to advertise to all peers. Peers that do not wish to participate on the route servers are still required to use the looking glass function, but should tag their routes appropriately.
DNS Geolocation Note
Some peers will use DNS geolocation to determine if their content will be served from peered resources on TahoeIX. Your DNS resolver will need to geolocate to the Reno/Sparks/Carson City and nearby areas for best results.
IPv4 Networks (RS1)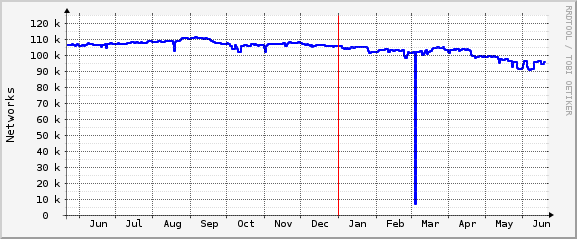 IPv6 Networks (RS1)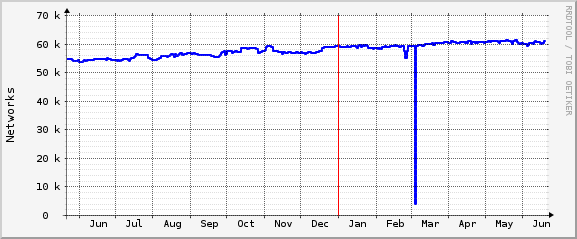 Daily Traffic Summary (every 5 minutes)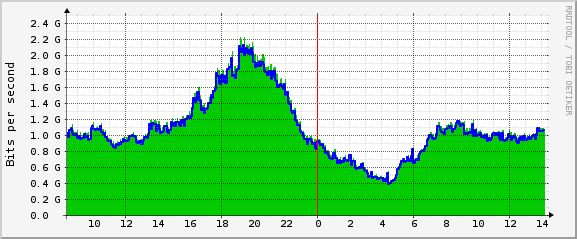 Weekly Traffic Summary (30 Minute Average)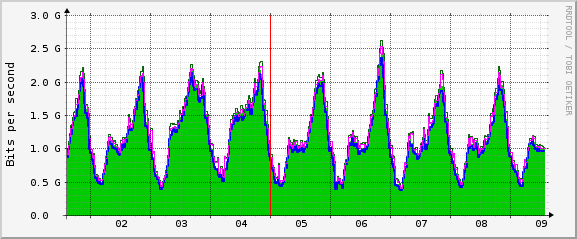 Monthly Traffic Summary (2 Hour Average)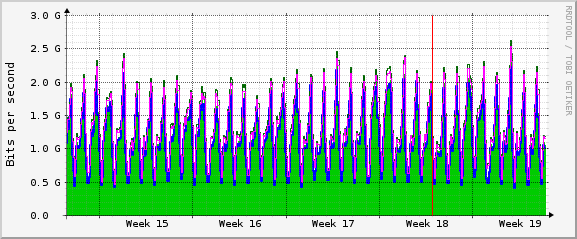 Yearly Traffic Summary (1 Day Average)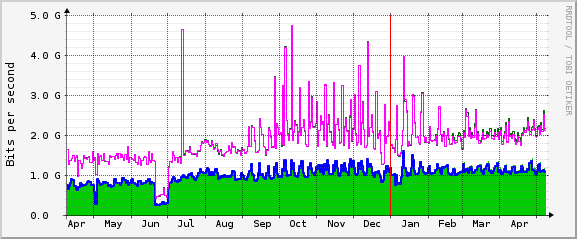 Green/Blue: Incoming/Outgoing Traffic Dark Green/Magenta: Maximal 5 Minute Incoming/Outgoing Traffic
Email
info < at > tahoeix < dot > org
Phone
+1 775 525 2539 (voicemail only)
Postal and Shipping
Tahoe Internet ExchangeC/O Roller Network LLC3545 Airway Dr. Suite 114Reno, NV 89511
Please contact us first before shipping hardware.